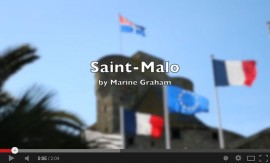 Une très belle vidéo de Saint-Malo, tournée par Marine Graham.
This is a short video i made in St-Malo.It's the first 'artistic' video i made, if you have any opinion i would be glad to hear it! I hope you will enjoy it!
Je vous laisse apprécier, la vidéo parle d'elle même.
Le lien de la vidéo sur Youtube ici.