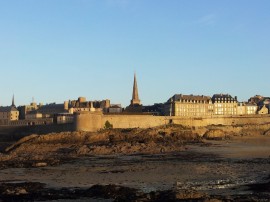 Discover the privateers' town…
Famous as the privateers' town, Saint Malo was rebuilt after the WWII.  You can discover the different monuments as the castle of the Dukes of Brittany, half-timbered house, St Vincent Cathedral, the famous people who lived here as Chateaubriand, Jacques Cartier, Surcouf and the bay of Saint Mlao with the remparts, the islands and the coast.
An extra guided tour : la Cité d'Aleth + Saint Malo
With this tour, you can discover the 2 towns of Saint Malo. The first one, la Cité d'Aleth which was built by a welch monk Maclaw. From it you have a beautful view on the remparts and you can see the canons of the WWII.
And then by bus, we can reach Intra-Muros, the second town which was an island before and built in the 12th century and we can walk through the mediaval streets and discover the sightseeings of it.
This Tour requires to have a bus or a car.